4 Answers from A Pampered Chef Expert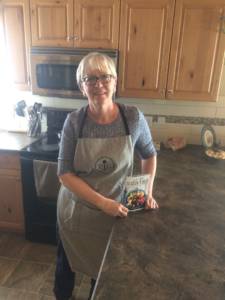 Liz Potter is a passionate Pampered Chef expert. From the kitchen to the table, Liz knows how to deliver the perfect meal. Learn why she got involved and become inspired. Time to get cooking!
What made you want to become involved in Pampered Chef?
I have been a Pampered Chef user for years, attending many parties. I am a firm believer in the product and I love all of the products I have. The last party I was involved in I started to wonder if this was something I would be able to do. So I called the person running the party and asked a bunch of questions, and liked what I heard. I still pondered it for a few days, and kept coming back to "I know I can do this." My personality is one that seconds guesses myself if left too long to think. However, I called her right away and said YES I WILL DO IT!  Signed up and I am so happy I did.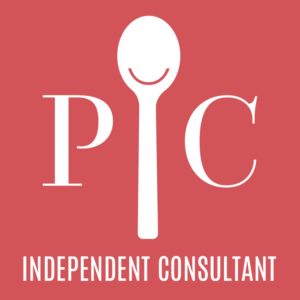 Also I found that I was becoming more of a recluse, wanting to stay home rather than socialize!  Doing some soul searching I knew I needed to connect with people again.  I thought this would be a perfect way to reacquaint myself with old friends while creating new friendships!
What is the one Pampered Chef product you can't live without?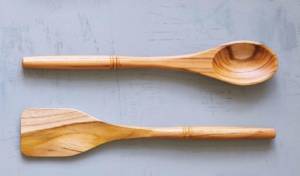 Hmmm….. that is a difficult one for me!  I love everything I use!  I would have to say it would be my garlic press!  Best tool out there if you cook a lot with garlic.  The Garlic Press lets you enjoy the flavor of fresh garlic without the hard work of mincing (your hands don't smell like garlic for days either). It lets you press fresh cloves of garlic—even the really big ones—without peeling them first. It even comes with a handy little cleaning brush to remove all the minced bits, so you never have to touch it. Some other things you can use it for is to mince ginger and horseradish, so you get fantastic flavour in every bite.
What is your favorite meal to cook and with what products?
I have a few, but one that comes to mind that is a hit!  It is the glazed Sesame Chicken Stir Fry.  I have attached the recipe below and have bolded and italicized the Pampered Chef products that are used for this recipe!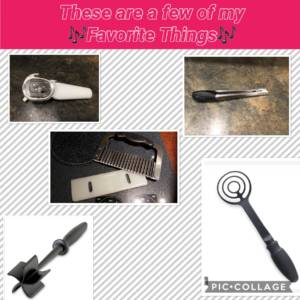 How does Pampered Chef help you enjoy cooking more?
I love the products and the simplicity of using them as well as how good the meals come out! I love the versatility of the products and how they can be used for numerous cooking tasks not just one. When I receive a new product I get so excited to try it—bringing my cooking imagination to a whole new level!
"I would love to sit down with you to chat, and be a part of your cooking show."
In closing, as a Pampered Chef consultant, I want to bring people together and show them how the right tools and recipes make everyday cooking simpler, tastier, more stress free, and more memorable with the ones you love. What is a great way to do this? Host a party!!!  It is a fantastic way to see the Pampered Chef products in action as well as enjoy the comradery of the company you love to spend time with! Any questions? Want to host a party? Want to become a Pampered Chef consultant yourself?  Give me a call, I would love to sit down with you to chat, and be a part of your cooking show.

"When I receive a new product I get so excited to try it—bringing my cooking imagination to a whole new level!"
A Favourite Recipe from Liz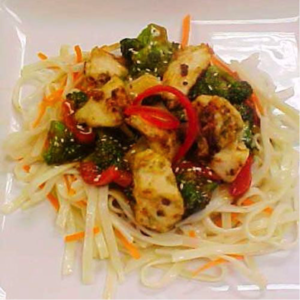 GLAZED SESAME CHICKEN STIR-FRY
THIS LIGHT STIR-FRY IS GREAT SERVED OVER A BED OF SHREDDED NAPA CABBAGE.
INGREDIENTS
·       2 cups (500 mL) broccoli florets
·       1   1-inch piece peeled fresh gingerroot
·       1 cup (250 mL) pineapple juice
·       1/2 cup (125 mL) hoisin sauce
·       2 tbsp (30 mL) soy sauce
·       4 tbsp (60 mL) cornstarch, divided
·       1/2 tsp (2 mL) red curry paste
·       1/2   red bell pepper
·       1 cup (250 mL) chopped bok choy
·       1 lb (500 g) chicken tenders
·       2 tbsp (30 mL) Asian Season Mix
·       1 tbsp (15 mL) sesame oil
·       2   garlic cloves, pressed
·        Shredded napa cabbage and peeled, julienne-cut carrot (optional)
DIRECTIONS
1.     Place broccoli florets and 1 1/2 cups water in Large Micro Cooker.  Microwave on HIGH 3-4 minutes or just until broccoli is crisp-tender. Meanwhile, fill Stainless (4-qt) Mixing Bowlwith ice water. Drain broccoli; immediately plunge into ice water. Let stand until cool; drain using large Stainless Mesh Colander and set aside.
2.     Finely chop gingerroot using Food Chopper. Combine gingerroot, pineapple juice, hoisin sauce, soy sauce, 1 tablespoon of the cornstarch and curry paste in Small Batter Bowl; whisk using Stainless Whisk and set aside.
3.     Slice bell pepper into thin strips using Utility Knife. Chop bok choy using Santoku Knife. Trim chicken tenders; cut in half crosswise using Chef's Knife. Combine chicken with remaining 3 tablespoons cornstarch and seasoning mix in Classic Batter Bowl.
4.     Add oil and chicken to skillet;cook over medium-high heat 7-10 minutes or until chicken is cooked through, turning with Chef's Tongs. Remove chicken from Skillet; set aside. To same Skillet, add bell pepper and garlic pressed with Garlic Press. Cook and stir with Teak wood spatula 3-5 minutes or until pepper is tender. Add hoisin sauce mixture, bok choy and broccoli. Cook 1-2 minutes or until sauce is slightly thickened. If desired, serve vegetables over shredded napa cabbage and peeled, julienne-cut carrot. Top with chicken and serve.
Yield:
·       4  servings
Nutrients per serving:
U.S. Nutrients per serving: Calories 300, Total Fat 6 g, Saturated Fat .5 g, Cholesterol 65 mg, Carbohydrate 35 g, Protein 30 g, Sodium 1070 mg, Fiber 2 g
Cook's Tips:
If desired, this stir-fry can be served over hot cooked rice noodles that have been drained and tossed with a small amount of sesame oil and julienne-cut carrots.
You can also save a step and blanch broccoli at the same time by adding to the pasta cooking water 2 minutes before noodles are done cooking.
3 Meals- 1 Bottle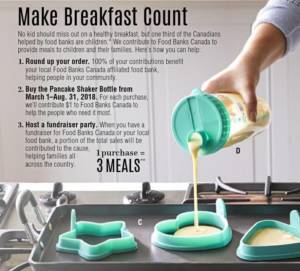 Connect With Liz
Email blair.lizpotter@telus.net
Call 403-334-4299
Inspiring Entrepreneurs on HCM Lifestyle
HCM Lifestyle
is
sharing 
inspiring personal stories and entrepreneurs. If you are an entrepreneur please share and spread your message to others. You can
share online
or email hcmlifestyle@gmail.com. Thank you for being part of the HCM Lifestyle journey. So please connect with us on Instagram
@hcmlifestyle
,
Facebook
,
Twitter
and
Tumblr
and be with us every step of the way. Also be connected through our bi-monthly
newsletter online
.