Daily Journal of 18 Day European Vacation – Part II
HCM Lifestyle shares real stories from real people. This is the 18 day journal from Roy and Carol. The lovely couple travelled to England to visit home roots and then carried on with a river cruise through Europe. HCM will be sharing their journey in two weekly segments.
To read the first segment visit https://hcmlifestyle.com/daily-journal-of-european-vacation/
We will now commence the rest of the journey. Enjoy!
June 9th
We boarded the plane at Heathrow at 6:30 a.m. and flew to Munich.  A Viking bus met us at the airport.  Took 1 ½ hrs. to get to our ship the Viking Egil at Nuremberg, Germany – Roy and I were the only people on the bus!  Upon embarking the ship we were greeted by very friendly staff and taken to our stateroom.  Pleasantly surprised at the spaciousness!  Went for the Embarkation Buffet which was lovely and met a couple Sherry and Joe Spisak from Syracuse NY.  This is the couple we travelled and socialized with for the entirety of the trip – what a blessing they were and so much fun.  In the afternoon we took a shuttle bus into Nuremberg which is the second largest city in Bavaria and saw some sites on our own one being what was left of the Berlin Wall, so much history there on the German/Jewish conflicts. After W.W. II this was the site of the Nuremberg Trials.  We also went into a few shops and then back to the ship for cheese and wine tastings of Germany, dinner and an evening of live entertainment.  What a wonderful first day on our cruise on the Danube!!
June 10th
Now back into Nuremberg on the bus with a tour guide this time to the Old Town.  We learned that Nuremberg grew into the toy making capital of Europe, saw the grounds where the Nazi rallies took place and explanations on W.W. II history in Nuremberg, saw the Imperial Palace and then walked down the castle hill which brought us to the Market Square.  Here we bought some gingerbread which they are famous for and saw the beautiful Gothic Fountain.  Had our picture taken hanging onto one of the rings on the metal structure by the fountain (Nuremberg is also well known for their metal craftsmanship).  The bus then took us to Roth where we got back onto the ship.  Had lunch and then a cooking demonstration on how to make apple strudel and of course after the demo we had tea and apple strudel!
Remains of the Berlin Wall in Nuremberg, German

June 11th
We arrived in Regensberg, Germany at 8:00 a.m., had breakfast and then Roy and I set out on our own walking tour.  This is a very old city that was left untouched by the bombings of W.W. II with such interesting architecture.  The cobbled streets and the beautiful very old buildings were definitely something to see and experience.  We toured a golf museum and learned (according to their historical knowledge) that the game of golf actually started on ice in Holland!  Went into the "Hat Place" – sooo…..many different hats for men and women!  We really got a good view of St. Peter's Cathedral from the ship upon arrival in Regensberg.  Back to the ship for lunch and enjoying the scenery.  Supper was a traditional German buffet then off to the lounge for entertainment from Joseph who played the piano and sang – very talented musician and vocalist!  Departed from Regensberg at 7:00 p.m.
June 12th
We arrived in Passau, Germany at 7:00 a.m.  Breakfast and off on a guided walking tour.  This is another interesting city where three European rivers meet.  Major flooding took place here and the highest was 15m in 1501.  In 2013 it was almost 15m.  Saw the Bishops residence and walked past the Rathaus (town hall).  The architecture was very unique here in Passau.  Concluded our tour at St. Stephen's Cathedral which houses Europe's largest pipe organ(17,000 pipes).  Due to timing we didn't get to hear them but we did get some beautiful pictures.  Sherry and I decided to go shopping (for shoes-LOL) and so Joe and Roy headed back to the ship.  We kind of got lost and never did find the shoe store that we wanted to go to.  We walked to where we thought the ship was but ended up at the Rhine River not the Danube.  At this point we knew we were lost.  There was no point in asking for directions as neither of us could translate.  We then decided that we had best keep walking as we had to be back on the ship by 5:45.  If you're not there they leave without you!  Lo and behold we made it and the guys were some relieved that they didn't have to come looking for us.  Apparently Joe went back to his room and slept – Roy did the fretting on his own!!  Left Passau at 6:00 p.m.
         St. Stephen's Cathedral in Passau
June 13th
After breakfast, our tour director Oliver, gave us a commentary of the sights along the Danube (Wachau Valley) – beautiful vineyards (produce some of the best Riesling and Veltliner wines in the world), unique towns and castle ruins.  Arrived in Krems, Austria at 11:30 a.m.  Boarded the bus to tour Gottweig Abbey.  This is a 900 year old abbey where Benedictine monks work and worship on a hilltop overlooking the splendid Wauchau Valley.  Viewed a film about monastic life, toured the church which was beautiful, the library that holds 130,000 volumes, the abbey's museum with its three story staircase with the most spectacular ceiling depicting the Holy Roman Emperor Charles VI and the adjoining rooms that holds artwork which is the abbey's own collection, antiques and rare coin collections.  Bus then took us to Tulln where we boarded the ship.  Went to the lounge for Austrian tea time with different Austrian pastries and a classical concert by Joseph which was fantastic.  Ship arrived in Vienna at 7:00 p.m.  Supper and then to the lounge for music, dancing and a late night snack of Gulaschsuppe (goulash) – very good!
June 14th
We took a shore excursion by bus of Vienna (capital city of Austria and renowned as the "City of Waltzes") where we saw some beautiful architecture and rode along the Ringstrasse.  The Ringstrasse is like a traffic circle which is 5.3 km long and 57 metres wide.  It took 50 years to build and is said to be the most beautiful boulevard in the world.  As we drove along on the Ringstrasse we saw palaces, museums and many coffeehouses (Vienna is well known for their coffeehouses).  We saw the State Opera House, Parliament and City Hall.  It was all beautiful but did notice that the shopping area was a little more modern than we expected.  Back to our ship the Viking Egil to depart Vienna for Budapest.  Attended the Captain's cocktail party which was fun and nice to talk with others who had taken additional tours, dinner and then back to the lounge for more visiting and entertainment with Joseph!
Budapest at Night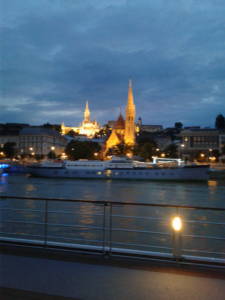 June 15th
(Scenic cruising – Danube Bend).  This was a 40 mile stretch of absolutely beautiful scenery where we saw quaint little towns, cities, church domes, an old castle and farmland. Our ship arrived in Budapest, Hungary at 9:00 a.m.  Sherry, Joe, Roy and I took a bus to the monastery in Buda.  Walked around the monastery and had lunch.  Met a couple from Canada who took some pictures of us overlooking traditional Buda and modern Pest.  Took the bus back to Pest and walked along the river where we came across a monument to Hungarian Jews of 60 pairs of "shoes" depicting where the German's made the Jews remove their shoes then shot them and tossed their bodies into the Danube – so sad to see!  Cocktail Hour, final farewell with Director Oliver and dinner in the restaurant.  Ship left the pier while we were eating to prepare for the scenic sailing at 8:00 p.m.  The scenic cruise was amazing and the highlight of our entire cruise.  The lighting on the Chain Bridge, Arpad Bridge and Elizabeth Bridge, UNESCO world heritage site, Hungarian Parliament, Fisherman's Bastion, Matthias Church, Gresham Palace, Gellert Hill was outstanding!  We stood on the top level of the ship where we got an excellent view of "Budapest at Night".  The ship docked at Rakpart at 10:00 p.m. and it was back to the lounge for entertainment, dancing and visiting.  Total number of locks we went through from Regensberg to Budapest – 16.
Our favourite place – Budapest during the day with our cruise ship in the background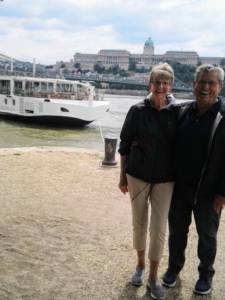 June 16th
We disembarked the ship and made our way to the Viking bus assigned to us which took us to the Budapest Airport.  Rode on the same bus as Joe and Sherry so had a chance to visit some more and say our sad goodbyes!  This airport was small and extremely crowded so took awhile to get through security.  Did meet up with Sherry again on the plane to Toronto which was a nine hour flight on a very small Air Canada plane.  Had a two hour layover in Toronto and a four hour flight to Calgary.  Sheryl and Jesse picked us up and we spent the night with them in Cochrane.  Back to Lacombe the next day!  What a wonderful experience for Roy and I and we will cherish forever the memories of this long anticipated trip!
The End of the Journey!
Thank you Roy and Carol for sharing your journey with HCM Lifestyle and thank you to our readers. We look forward to hearing more stories so please connect with us.
REAL TRAVEL STORIES FROM REAL PEOPLE
HCM Lifestyle is sharing inspiring personal stories. Please share your story of how you reach your vacation. Thank you for being part of the HCM Lifestyle journey. So please connect with us on Instagram @hcmlifestyle, Facebook, Twitter and Tumblrand be with us every step of the way.