Daily Journal of 18 Day European Vacation – Part I
HCM Lifestyle shares real stories from real people. This is the 18 day journal from Roy and Carol. The lovely couple travelled to England to visit home roots and then carried on with a river cruise through Europe. HCM will be sharing their journey in two weekly segments. Follow along to hear about their adventures.
May 29th
Left Calgary at 6:30 p.m. after having lunch with Sheryl, Cal and Jesse.
May 30th
Arrived in London.  Took the train to Paddington Station and a cab from there to the Best Western Corona in Victoria District.
May 31st
Our extremely friendly and accommodating private tour guide, Sasha picked us up at our hotel and took us on the subway to St. Paul's Cathedral which is located on Ludgate Hill (the highest point in London).   Then took a bus to see the Tower Bridge which is a draw bridge and a suspension bridge, and the Tower of London where the crown jewels are kept.  Sasha then hailed a traditional London cab to take us back to St. Paul's Cathedral so we could tour the inside.  Due to a schedule change on touring times we had to return but was well worth the return visit.  The interior of this church was absolutely amazing especially the Dome and to think that this is where Prince Charles and Princess Diana were married along with other notable functions. We then took the subway back to downtown London, stopped for a cool drink and a rest before entering through Admiralty Arch where we crossed the reddish colored road which one sees in many royal photos and runs between Buckingham Palace and Trafalgar Square.  This road is called The Mall and was lined with many British Flags.   Upon crossing this road we then entered St. James Park Lake.
    Tower Bridge in London   
Sasha then took us on the Blue Bridge that spans the lake and where we could see Big Ben and the London Eye to the east and Buckingham Palace to the west.   The Queen's Tea Party was being held just as we arrived at the Palace.  Wonderful sight as we got to see all the people dressed to the 9's for this occasion.  Even had our picture taken with one of the invited guests!  We rested on the steps of the Queen Victoria Memorial to take in the sights of Buckingham Palace and a much needed rest!  To the right of the gates Sasha pointed out the "Canada" guilded gates which is the entrance into Green Park.
We walked back to where we could continue on with our walking tour of the The Big Ben clock which was in the process of being restored (clock is now digital),  No. 10 Downing Street, Canada House and Westminster Abbey.  Well that was a long day but absolutely fantastic and couldn't believe that we managed to see everything on our list of "things to see" while in London.  Sasha escorted us back to our hotel tired but satisfied! The hotel manager chatted with Sasha before he left.  The manager was interested in him doing more tours for the hotel – hmm…. wonder how that turned out as we definitely were impressed with Sasha and the tour he took us on.  Pretty sure we would have wasted a lot of valuable time if we had tried it on our own!!
Buckingham Palace           
June 1st
We took a taxi to Euston Station where we boarded a train to Burmingham where we changed trains again which took us to Cannock.  Much to our surprise there were no taxi's anywhere at this station so had to walk pulling our suitcases on a gravel path with hopes that we would see a taxi somewhere.  Roy spotted a restaurant but soon discovered that it was closed. Then I noticed a hair shop which the owners were in the process of closing.  Roy ran fast across the street and caught their attention and they kindly called a taxi for us which we were very grateful for as we soon realized our hotel was not exactly within walking distance of the train station.  We got settled into our room at the Days Inn Cannock and caught another taxi to the Enterprise Car Rental to pick up our rental car that we had reserved.
And then….it was Roy's first driving experience in England. Steering wheel on right – drive on left!!  Actually he did very well and we made it safely back to the hotel.  We were to meet Harry (a second cousin through marriage) that evening so decided to get a bite to eat while we were waiting.  Had supper at an eatery and store which was part of the hotel.  Here you had a couple of choices of eateries and low and behold we chose McDonald's!!  Finished our meal and were on our way back to our room when we spotted Harry and his son David and wife Lena (we met them a few years ago in Drumheller when they were visiting Auntie Rene and Lawrence).  Harry was just checking in and then introduced us to the young receptionist at the desk who turned out to be the daughter of another second cousin.  We then went to the Toby Carvery Pub where the rest of them had supper as we had already eaten.  David and Lena went back to their place and Harry and us went back to the hotel where we visited some more.
June 2nd
We received some very sad news from Paul and Sheila that Auntie Rene had passed away early that morning.  Very blessed that we had Harry, David and Lena with us – they were also saddened by the news. Really felt that we were meant to be in Norton Canes at that moment as it was the birthplace of Auntie Rene's parents.  Later that morning Harry took us for breakfast and then with Roy driving, Harry was free to show us the ancestral home of my great great grandparents (this house was also home to their family owned business known as "A.E. Williams Builders and Son's").  Also saw other relatives homes in the same area and St. James the Great Parish Church.  This Anglican church dates back to the 1850's and was where my ancestors attended. Later that afternoon we were invited to Linda (Harry and Marie's niece) and Chris Florence's home for tea.  We then drove to Chasewater and toured Walsall Arboretum which is a well known park and walked along a path beside the lake where there was an abundance of beautiful swans.
Harry then took us to the Cannock Chase War Cemetery and then we walked to the German Military Cemetery.  Had supper at the Old Mill Pub which was a unique and what I would call a typical English pub and of course ordered the traditional fish and chips which was excellent and something that was on our list of things to do!  Sunday morning Harry, Roy and I attended church at St. James Church which was very meaningful and emotional to me.  Had a chat with one of the members who looks after the history of the grave sites that are located around the church yard to obtain any information on the Williams family.  Met some family at a pub for a bit of a family reunion that Harry and his niece Linda organized.
Was so nice to see David and Lena again and to meet their son Jonathan and his girlfriend, Linda and Chris Florence, Zaphne and Mike Stretton and some longtime friends of Harry's.  Zaphne is a second cousin of mine and has been the mayor of Norton Canes and is presently chairman of Cannock Chase Council.  She will be running for mayor again shortly and has made the Queen's honor list and was knighted by Prince Charles for her work and dedication to the people in her community.  Additionally she also received a letter from the German Burgermeister recognizing her work.  Zaphne and Mike took me back to the church where she showed me my great great grandfather's headstone.  Sooo….old but writing was still readable in places.  Was taken aback by all the historical information I received on my family – this I will always treasure!  We then went back to Zaphne and Mike's house for tea and more visiting.  Returned to the hotel for a bite to eat and more visiting with Harry.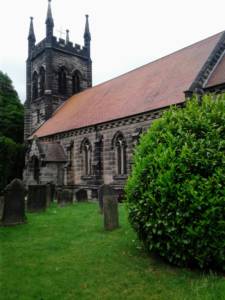 St. James the Great Anglican Church in Norton Canes.  This was where our ancestors worshiped and many of them were laid to rest in the area surrounding the church. 
June 4th
We left Norton Canes for our drive to Pembrokeshire with Harry as our tour guide and co-pilot.  The drive through the country side was most enjoyable and scenery was fantastic.  We quickly noticed the different dialect, very narrow roads and sooo…. many traffic circles!  This is where we had an incident with the rental car even after Roy did some quick manouevers to avoid removing a mirror from a parked car and hitting an oncoming delivery truck – YEP – removed the mirror but no damage to the rental car thank goodness! Roads in this area of Wales were very narrow indeed!  We spent two wonderful days in Pembrokeshire with Harry.  He showed us the sites around his hometown and the area.
We visited the Pembroke Dock Heritage Center, Pembroke Dock – this had a large canon that pointed towards Cleddau Estuary and Pembroke Castle which we walked through with Harry narrating – wonderful experience!  Harry then took us for a drive in the country to see his childhood home and where his parents continued to live for many years.  Our day ended with another traditional fish and chip meal.  That evening Harry's neighbors invited us for a visit.
June 6th
We left Pembrokeshire and after making it through a multitude of traffic circles we made it safely to Kingston Upon Thames in London.  Checked into our hotel at The Doubletree by Hilton.  In the evening we visited with Kevin, Susan and Matthew.  It was so nice to see Kevin after 27 yrs. and to finally meet his partner Susan and son Matthew.
June 7th
We returned the rental car, walked to the dock and took a short boat cruise on the Thames River from Kingston to Richmond – wonderful scenery!  Had time to get off the boat to walk around and observe some of the shops.  Contacted our friend Michelle whom also we hadn't seen in 27 yrs.  She picked us up and took us to her home in Clandon where we finally got to meet her partner David.  We had a lovely visit with them and then they treated us to fish and chips (just couldn't get enough of them!)at the Oslo Pub which is their favorite pub to go to.  Michelle took us back to our hotel and would pick us up the next morning to take us to the airport.
June 8th
Our phone was not working that well so had a little delay in Michelle picking us up but we did get to the Rennaisance Heathrow Hotel in good time.  Michelle stayed for a bit and then we had to say our sad goodbyes – she was truly a blessing for our short stay in London!
Follow along on their Carol & Roy's journey. Next week their journal will cover the latter part of the trip-Germany, Austria, and Hungry!
REAL TRAVEL STORIES FROM REAL PEOPLE
HCM Lifestyle is sharing inspiring personal stories. Please share your story of how you reach your vacation. Thank you for being part of the HCM Lifestyle journey. So please connect with us on Instagram @hcmlifestyle, Facebook, Twitter and Tumblrand be with us every step of the way.