Feeling Pressure to Be Thin?
90% of Girls Age 11 – 17 Feel Pressure to be Thin by the Media
What have you been noticing since the lock down?  Anything different in your world?  Have you been watching more TV, or Netflix?  Have you been scrolling through your social media feed more?
I can guarantee you that teens have been doing all of the above.  This brings me to what I saw happen a month ago in May.  The singer song writer from England Adel broke the internet as the daytime talk show hosts said.  Both TV shows "The Social" and "The View" talked about Adel.  They were discussing the photo of her 'before' body and her 'after' body.  She recently released approximately 45 pounds.  Discussing if she should have lost the weight, how she looks now, reasons why she might have lost the weight, and so on.  The hosts also talked about what she was wearing, the clothes she chose to wear, especially the 'after' photo.
First, I feel we should not be discussing how a person looks in a photo if they lost weight or not.  Also, I feel society would not be talking about what a man would be wearing in a photo.  I have not seen you-tube videos where sport casters interview male athletes and ask them about what they are wearing.  Or they will ask the male tennis players to 'do a twirl' in their clothes they are wearing.  You see if it was a woman athlete some sport casters will ask those type of questions to the female athletes.  Women who work just as hard as men in their chosen sport.
"I have not seen you-tube videos where sport casters interview male athletes and ask them about what they are wearing."
No wonder girls age 11 – 17 feel pressure to be thin by the media.  90% of girls to be exact.  And within this age group as well 50% of them wish they were someone else.  Girls are bombarded with media on how to dress, how to act, what to eat, what to wear, or what make-up to wear.  Think back to when you were a girl, what do you remember seeing on TV or in a magazine?  I remember seeing ads for smoking and women dressed in little dresses draped over a car with men looking at them.  The men dressed in muscle tank tops and looking very buff.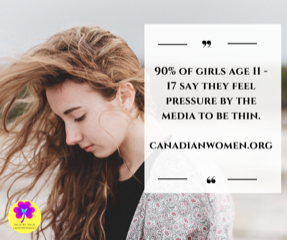 I know for me the name calling did not help either.  Being bullied for what I was wearing, or not wearing for that matter.  I never had the popular Jordache jeans or Levi jeans, or GAP sweaters in school.  We shopped at Bi-Way.  Then I would go home and see the ad's in the magazines of the trendy clothes or name brand clothes and wish I could wear them.  Maybe, just maybe then I would not be called ugly for what I was wearing?
There is so much pressure for teen girls to look a certain way.  What if we encourage them to find their own style, and be comfortable in their skin?  If your daughter is dressing respectfully then let her.  I do not mean she must wear ankle length skirts and tops with long sleeves though.  She does need to dress in something that respects her body though.
An activity you might want to try with your daughter is asking her to list off 5 things she likes about herself.  You might be surprised on how tough this is for her.  You try it too.  List 5 things you like about yourself.
Another activity to do is look at ads on TV with your daughter and discuss what you see, and what you do not see.  I imagine a very interesting conversation could happen between the two of you.
It is time to raise the next generation of future leaders better.  If you are a parent or caring adult who works with youth the time is now.  I have created a face book group for Mums and teen daughters where the daughter is the target of bullying currently, or in the past.  The Mums want connection to adults who 'get them', and the daughters want to feel safe online.  Remember last month I shared about Rehtaeh?  Her Mum Leah is in the Facebook group.  It is a safe space to ask questions, share a bullying story.  It is a Facebook group that is full of inspirational quotes, posters/memes, music videos, article and so much more.  I would love to invite you and welcome you there.  Search Inch by Inch Empowerment Leaders on Facebook.
If you have any questions, or comments please reach out to me.  aime@inchbyinchempowerment.com  I am here to help and be of service to you the reader.
More About Aime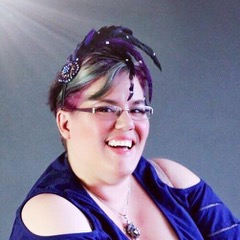 Aime Hutton is a true miracle survivor.  Being born 3 months early was just the start of the challenges Aime has overcome in her life time.  Hailing from Calgary, Alberta Canada, as a Youth Diversity Advisor, Aime helps educators facilitate safe spaces for young female students so they can instill connection, inclusion, and courage in themselves.  As a 5-time international best-selling author/compiler Aime shares hope, healing, and inspiration through her writing.  She was a finalist for the International Femtor Awards 2015 for eWomenNetwork in the category of Business Matchmaker from Dallas, Texas, USA.  Being 1 of 6 in North America, and the only Canadian.   In 2017 Aime was awarded the Peace & Friendship Award by Diversity Magazine in Alberta for being one who celebrates, accepts, and learns from the Indigenous people of Canada.
Connect with Aime
e-mail:  aime@inchbyinchempowerment.com
website:  www.aimehutton.ca
FaceBook:  https://www.facebook.com/ibiempowerment/
Monthly Blogs from Aime
Aime will be sharing inspiring stories, tips and tools on HCM Lifestyle every month. Thank you Aime for being part of the HCM journey and helping many girls and women feel empowered.

INSPIRING PEOPLE SHARING ON HCM LIFESTYLE
Thank you so much for sharing your inspiring story Aime!
HCM Lifestyle
is
sharing 
inspiring personal stories and entrepreneurs. If you are an entrepreneur please share and spread your message to others. You can
share online
or email hcmlifestyle@gmail.com. Thank you for being part of the HCM Lifestyle journey. So please connect with us on Instagram
@hcmlifestyle
,
Facebook
,
Twitter
and
Tumblr
and be with us every step of the way. Also be connected through our bi-monthly
newsletter online
.