Grateful To Be A Girl In Canada
Inch by Inch Chronicles
Monthly Featured Blog Writer: Aime Hutton
Welcome back to this column!  It is finally summer!  We made it!  How are you all doing?  Did you get through the remaining of the school year with your kids?  I know this summer may look a lot different with the restrictions in place due to Covid-19.
Thinking back to when I was a girl in the summertime there is one thing, I know to be sure though is that I am so grateful to be a girl living in Canada.  July 1 is a day to pause and give thanks for this great country.  Let me ask you this, if you reading this are a woman or identify as female are you grateful to live in this amazing country?  Are we a perfect country?  No.  No country is perfect.  However here are a few stories on why I am grateful to be a girl in Canada.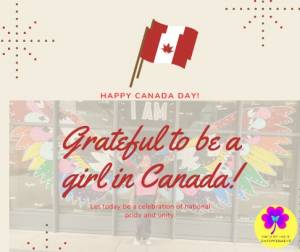 As a girl growing up, I could go to school, I could play sports, I could dream about being what ever I wanted to be.  There were no restrictions on me for being a girl.
There are some countries today in 2020 where girls are not allowed to go to school or play sports.  Remember the courageous girl Malala Yousafzai who was shot by the Taliban in her country because she wanted to go to school?  Her father encouraged her to dream and go to school.  Knowing full well this was against the country's rules.  She secretly went to school every day.  When the Taliban found out about this, they stormed the school where Malala and her friends were studying.
Malala was shot in the head, and by a miracle lived to tell the tale.  I read that this year she graduated from Oxford University in England and is continuing her advocacy in girl's education.
I never have had to worry about being shot by the military in my school just for being a girl.
Now, yes, I know there are violence in schools, and violence against women in our Canadian history in schools.  The Montreal Massacre comes to mind on Dec. 6 back in 1989 on a post secondary campus a man opened fire in a women's studies class.  The University I went to between 1996 and 2000 had one strange incident that I know of, in relation to women and school.  In a women studies class lecture hall, a male student came into the lecture hall at stood at the back.  He yelled that women should stay in the home, and not be at school.  I am grateful that nothing else happened.
I was involved in sports as a girl growing up too.  I was on the cross-country running team in elementary school.  In high school I was on the swim team, the field hockey team, and the dragon boat team.  Was I the fastest, or the best on the team?  No.
Yet what is true is that I could play, have fun, and build my confidence and courage to be me in sports.  There are countries around the world where girls are not allowed to play or do sports.  If the do, they hide from their government in secret and do their sport.  There was a documentary movie on Netflix at one point that showcased a group of girls in a country in the Middle East that were boxers.  Yet they had to hide the fact that they were boxing.
The final story is newer to me in my world.  I am a bisexual woman living in Canada.  And even though I still am afraid living openly as who I am at my core, I am grateful.  Yes, I am worried about holding hands with a woman when I do start dating.  Attacks to women who are either lesbian or bisexual, or transgender in Canada does still happen.  Yes, today in 2020.
However, Canada is a safer place to be a part of the LGBTQ+ community than other countries.  In some countries it is illegal to be lesbian, gay, bisexual, or transgendered.  According to outlife.org.uk there are still 9 countries today that impose the death penalty to those accused of being a part of the LGBTQ+ community.
As well as there are still many countries that have banned same sex marriages, approve of conversion therapy, and put people in jail if they are found out to be a part of the LGBTQ+ community.  I am grateful that my city Calgary has banned conversion therapy, that the country has put in place that same sex marriages are allowed across the country, and that we can not go to jail for being who we are at our core.
As you are reading this and you are a woman, aren't you grateful to be a woman in Canada now?  I hope so.  I am every day.  Happy Birthday Canada.
It is time to raise the next generation of future leaders better.  If you are a parent or caring adult who works with youth the time is now.  I have created a face book group for Mums and teen daughters where the daughter is the target of bullying currently, or in the past.
The Mums want connection to adults who 'get them', and the daughters want to feel safe online.  It is a safe space to ask questions, share a bullying story.  It is a Facebook group that is full of inspirational quotes, posters/memes, music videos, article and so much more.  I would love to invite you and welcome you there.  Search Inch by Inch Empowerment Leaders on Facebook.
If you have any questions, or comments please reach out to me.  aime@inchbyinchempowerment.com  I am here to help and be of service to you the reader.
More About Aime Hutton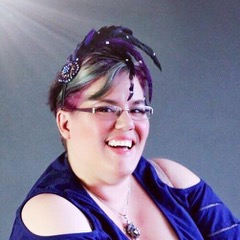 Aime Hutton is a true miracle survivor.  Being born 3 months early was just the start of the challenges Aime has overcome in her life time.  Hailing from Calgary, Alberta Canada, as a Youth Diversity Advisor, Aime helps educators facilitate safe spaces for young female students so they can instill connection, inclusion, and courage in themselves.  As a 5-time international best-selling author/compiler
Aime shares hope, healing, and inspiration through her writing.  She was a finalist for the International Femtor Awards 2015 for eWomenNetwork in the category of Business Matchmaker from Dallas, Texas, USA.  Being 1 of 6 in North America, and the only Canadian.   In 2017 Aime was awarded the Peace & Friendship Award by Diversity Magazine in Alberta for being one who celebrates, accepts, and learns from the Indigenous people of Canada.
Connect with Aime
Email:  aime@inchbyinchempowerment.com
Website:  www.aimehutton.ca
Facebook:  https://www.facebook.com/ibiempowerment/
SHARE YOUR STORY TO INSPIRE AND EMPOWER OTHERS
HCM Lifestyle is sharing inspiring personal stories. Please share your story of empowerment or inspiration. Thank you for being part of the HCM Lifestyle journey. Connect with us on Instagram @hcmlifestyle, Facebook, Twitter and Tumblrand be with us every step of the way.