LUXX-Everyone Deserves A Piece of Luxury
Featuring Designer Derek Jagodzinsky-the face behind LUXX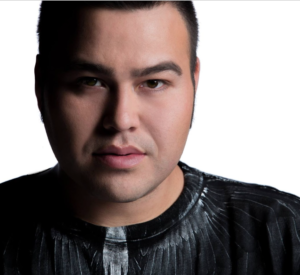 By: Madison Colberg
Cree is Couture. Cree is Contrast. Cree is Luxx.
Luxx Conquers all.
"We are not stuck in the past; we draw on our heritage to inspire our modern views and takes on art and life." -Derek Jagodzinsky
LUXX is bold, fierce and unapologetic. While seamlessly fusing aspects of the Cree culture into modern everyday wear through a Dual Perspective. With a cheeky and a fierce attitude, each piece of LUXX tells a story. The pride of the Cree Culture stands out through the use of colours, fringe, materials and Cree Syllabics.
LUXX Ready to Wear is a luxury brand based out of Edmonton that was founded by Derek Jagodzinsky in 2011. Jagodzinsky is experienced in the fashion and business realm due to his postsecondary education and intern experience in the forefront of New York City couture. He received his Bachelor of Design at the University of Alberta where he learned the history of fashion and design while also taking additional initiatives to learn about art and sculpture. His internship was for Michael Kaye couture in New York City where he learned business aspects that form the foundation of fashion.
From a young age, Derek Jagodzinsky was compelled to create beauty out of the ordinary. A Collective Spirit, part of his Woodland Cree White Fish Nation heritage, encompasses the mystique of the cultural teaching and inspires Jagodzinsky to move Indigenous fashion forward in a bold direction. LUXX is a brand that breaks boundaries, carves their own path, and is unapologetic every step of the way.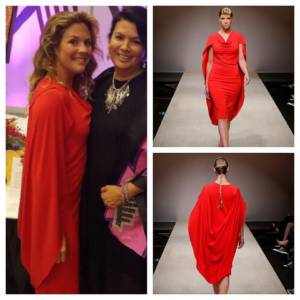 LUXX offers ready-to- wear pieces
LUXX offers ready-to- wear pieces that attribute to the high end fashion the brand embodies. The product range of LUXX consists of dresses, skirts, pants, jumpsuits and accessories. A customer is granted a piece of luxury of the brand in knowing that the product was crafted by a seamstress that dedicated multiple hours to each minute detail. LUXX is not mass produced nor available everywhere, but rather sought out by those who desire a piece that authentic yet functional in everyday life.
As the brand values being bold, fierce, authentic and seamless, each of these values are projected to the consumer through the clothing. These values are reflected in the product and brand strategy through individual products and collections. For example, the values of appreciating life with a dual perspective that encompasses two different cultures are shown through the collection of 'North Meets East,' which features kimonos and is inspired by the Malaysian culture. Other pieces use Cree Syllabics and the colours of the Cree Medicine Wheel, again incorporating the culture of the brand into the pieces.
LUXX intends to give a little piece of luxury to everyone
LUXX intends to give a little piece of luxury to everyone in their everyday life. Jagodzinsky shares top selling products are "usually modern classics such as wrap dresses that are a good fit or basic styles that are very wearable and can fit into a lot of people's wardrobe."
The brand fuses traditional and modern ideas through fashion. The dual X's of LUXX symbolize the dual perspectives behind the brand. The X's are representative of the communication between two people, two worlds and two perspectives. The use of Cree Syllabics in the designs brings this communication to light. The Syllabics serve as a representation of togetherness, respect, and harmony, and repeat the resilient affirmation "We Will Succeed."
Fashion allows LUXX to educate and authentically share Indigenous culture
Fashion allows LUXX to educate and authentically share Indigenous culture. LUXX works with traditional Indigenous artists such as authentic hand beading done by local Aboriginal women, and prints designed around powerful themes and symbols prevalent in the Aboriginal culture. This is an important value to the brand as LUXX wants to ensure that the traditions and messages from the Cree culture are never forgotten.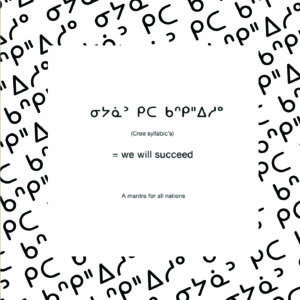 LUXX ​has​ ​had​ ​an​ ​amazing​ ​start​ ​as​ ​a​ ​new​ ​emerging​ ​brand​ ​in​ ​Canada and has​​ ​made​ ​exciting​ ​waves​ ​in​ ​the​ ​fashion​ ​world​ ​of​ ​North​ ​America.
Critical events for LUXX include crafting pieces for ​celebrity​ ​clients​ ​such​ ​as Sophie​ ​Trudeau​ ​and​ ​Kim​ ​Kardashian and features ​in​ ​news​ ​outlets, ​magazines​ ​and museum exhibits in​ ​Canada.​ ​Some of these include CTV, Where Magazine, the Smithsonian Museum Exhibit with Native Now and more.
Other ​opportunities include working with​ ​Otahpiaaki which is​ ​an ​emerging​ ​brand​ ​that​ ​is offering​ ​to​ ​house​ ​Indigenous​ ​brands​ ​in​ ​order​ ​to​ ​help​ ​amplify​ ​the​ ​voice​ ​and to​ ​protect​ ​their​ ​sacred​ ​work.​ ​Otahpiaaki will be​ ​working​ ​with major​ ​institutions​ ​like​ ​Mount​ ​Royal​ ​University​ ​to​ gain ​investors​ ​and​ ​offer growth​ ​opportunities for​ ​emerging​ ​talent.​ ​
With a touch of sass, LUXX is adding their own voice to the runway while staying true to it's roots. The Cree culture has motivated LUXX to unite the Indigenous heritage to the community at large through a Dual Perspective. Jagodzinsky states, "Culture is a rich phenomenon, and vast in its scope. But its beauty is in its ultimate humanity, the humanity that ties us all together."
Social media and website links:
https://www.facebook.com/LUXX-ready-to-wear-129290497189880/
@LUXXreadytowear