A Slice of Art
The power of the Internet.  My daughter's birthday is December 24th and we were going to Red Deer.  I needed a special cake.  Madison loves tea so I googled cake making in Red Deer and found  A Slice of Art.  I sent an email to Oriol  asking her to make me a Teapot cake.  She responded immediately and said she could help me out.  Now considering we were talking Christmas season, she did not hesitate and to my surprise, here is the beautiful cake she made.  Madison was so excited when she saw the cake.  Oriol could not have made it any more perfect!
Oriol, thank you for making Madison's birthday so special.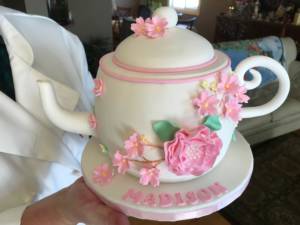 Here Is Oriol's Story
Cake Designing is a very rewarding career. It allows you to create things using your hands, being creative, and making people happy.  I was not a crafty child. I did not make a lot of crafts,  and never thought of being a cake designer until I started working in a bakery over 25 years ago. Working in many bakeries throughout my career, I have done it all. From wrapping to managing a bakery.  I think this background allowed me to enhance my skills, and truly realize what a passion I had for designing cakes.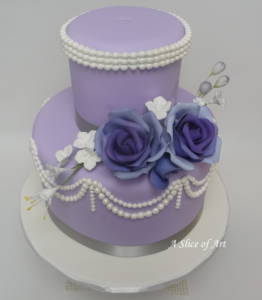 Getting married in 2011, I made my own cake.  I then thought what an awesome way to be creative, follow my passion and be my own boss.  I left the bakery where I was working, and started creating cakes from my home.  Now, I could not have done this without the support of my amazing Husband Wes.  As I started gaining experience and orders, after a year in, the AHS contacted me and directly told me to stop or I could be fined.  I certainly did not want any trouble, so I then proceeded to get Licensed and Health Inspected. My Husband and I turned  a section of our home into a Cake studio.  Being a Licensed and Health Inspected Studio has many benefits, not to mention,  my clients can rely on safe handling of their cakes.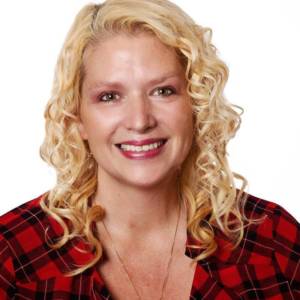 Since then, I have been in business for over 9 years in Red Deer,  have participated in charity auctions like "Evening of Decadent Desserts", been in Bridal Shows like "With This Ring", and have made many, many Wedding Cakes and Celebratory cakes.   I think I have lost count.   I rarely do the same design twice.  That is especially part of the creative aspect, and keeps Cake Designing exciting.

"I have had many challenges along the way"
I have had many challenges along the way. Learning to use different mediums ie: fondant, modeling chocolate was a huge learning curve for me when I first started out.  I am self taught, however, I have since taken many Professional Cake Classes with Master Sugar Artists such as Kaysie Lackey, Bronwen Weber, Ruth Rickey, Sachiko Winbiel, Joshua John Russell to name a few.
I cannot stress enough that baking a Great Cake is Very Important.  A Cake can look beautiful, however, if it does not reflect that on the inside, then that will spoil your business very quickly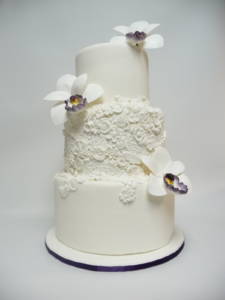 Three Lessons!
Lesson # 1 if you want to start a Cake Designing Business  is getting licensed and Health Inspected.
Lesson #2  is make sure you have tried and true recipes that taste great and are fool proof. Getting a Great buttercream to work with is very important also.
Lesson #3 is practice practice practice. Getting your skills down first and making faux cakes to start really helps before trying to sell any cake to clients.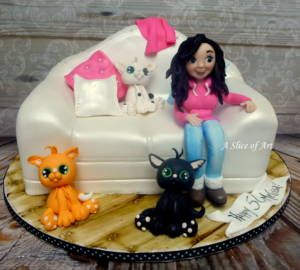 Cake Designing is a very rewarding career
Cake Designing is a very rewarding career, however, it is also a huge amount of hard work.   I put in more hours in my own business, than I ever did working for  grocery bakeries.  Not only am I responsible for the paperwork, I also am baker, dishwasher, designer, photographer and delivery driver. I have had a couple people come to assist me in my Studio, and I think this helped them to realize that although Decorating cakes is fun, there is a lot of work involved in creating one cake from start to finish.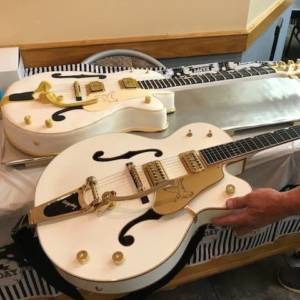 If you are getting married, having an important Birthday, celebrating an Anniversary, or just because, please feel free to contact me for your Custom Cake needs.   Not only do I create cakes and cupcakes, I also can create cookies, macarons, and other sweet treats. Contact me today at my email  sliceof_art@shaw.ca    Check out my website  www.asliceof-art.com  or give me a call  403 596 2195   Oriol Vanwells-Dial  – A Slice of Art
So if you need the perfect Cake, I highly recommend you contact  "A Slice of Art"
Thanx Again Oriol for helping me out.
Take care
Heather